准备好在 11.11 来 RB 礼篮&燕窝,享受令人兴奋的购物体验吧!做好准备迎接令人惊叹的优惠吧,这是最好的部分——免费送货到的全砂拉越古晋! 🚚✨
等一下,还有更多!尽情享受接收免费折扣券、不可抗拒的现金回扣和惊喜宝库的快感吧!
不要错过这个精彩的活动! 🛍️🎉
Get ready for an electrifying shopping experience at RB Hamper & Bird's Nest this 11.11! Brace yourself for jaw-dropping deals, and here's the best part – FREE shipping all across enchanting Kuching, Sarawak! 🚚✨
But hold on, there's more! Dive into the thrill of receiving FREE Discount Vouchers, irresistible Cash Rebates, and a treasure trove of surprises!
Don't miss out on this spectacular event! 🛍️🎉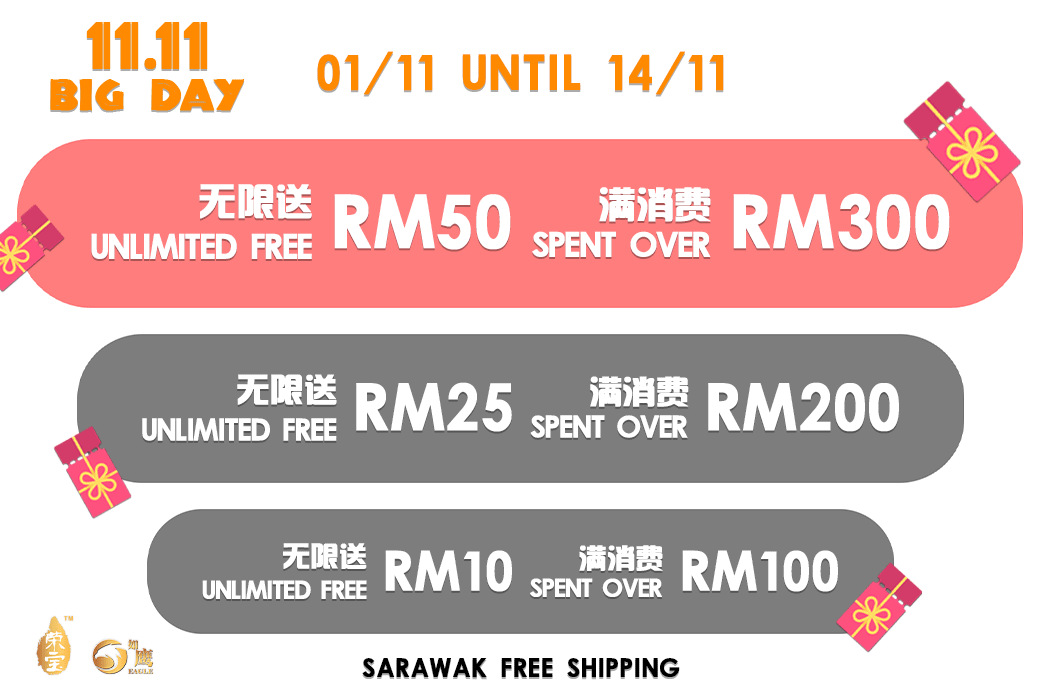 备注:
1. 这个优惠只限于 01/11/2023 至 14/11/2023 为期14天的大促销。
2. 当购买之后,奖励会直接打入您的网页户头。
3. 在下次购买,可以使用此奖励代替。(例如:你拥有RM50奖励金,购买的产品价格是RM25,在结账页面,你可以使用奖励金或其他进行付款。如果你用奖励金来结账,你剩下的余额是RM25, 以此类推。)
Remark:
1. This offer is only valid for the 14-day promotion from 01/11/2023 to 14/11/2023.
2. After purchasing, the rewards will be credited directly to your online account.
3. You can use this reward instead on your next purchase. (For example: you have RM50 bonus and the product you purchased is RM25. On the checkout page, you can use the bonus or other payment. If you use the bonus to checkout, your remaining balance is RM25, and so on. )